Garage Door Opener Repair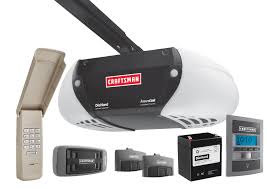 Opener Repair – The garage door opener has a very essential part in the garage door operation, without a properly functioning opener the garage door will not open or close automatically and it will result a plenty of unnecessary work and inconvenience, when you are in a rush and need to go to work as fast as you can and you need to open and close the garage before and after you are backing out of the garage or when you need to get off your vehicle in a typical Wisconsin winter day to open the garage door instead doing it from your car with one click of a button.
The repair of the garage door opener is not an easy task and it should be left for a professional garage door repair technician to deal with, the proper installation and operation of the opener is affecting also other parts in the garage door mechanism so it's the importance of a proper installation and repair should not be underestimated.
In Garage Door Repair Middleton we have more than a decade of expirience repairing and installing garage door openers from all types and makes, we specialize in fixing and installing Chain Drive openers, Belt Drive openers, Screw Drive openers and Jackshaft openers and our professional techs always will recommend the best garage door opener according to your preferences and budget.
Our garage door opener repair service is great because the extensive experience of our repairmen, the high level of professionalism and the attention for the smallest details they shows in every one of our jobs and the unmatched warranties you'll receive when you'll choose us as your next garage door opener installation provider.
So if you need garage door opener repair or installation service and you live in Middleton or anywhere in the west side of Madison you are more than welcome to call us and enjoy our great same day service.